Other People's Gardens 1 Kings 21:1-10, (11-14) 15-21a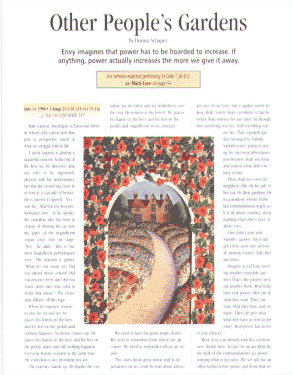 Envy imagines that power has to be hoarded to increase. If anything, power actually increases the more we give it away.


Katie Cannon, theologian at Episcopal Divinity School, tells a great story that puts in perspective much of what we struggle with in life.

A great organist is playing a masterful concert. At the end of the first set, he discovers that not only is he supremely pleased with his performance but that the crowd has risen to its feet in a cascade of bravos. He is moved to speech: "Yes," says he, "that was my best performance ever." As he speaks, the custodian who has been in charge of blowing the air into the pipes of the magnificent organ joins him on stage: "Yes," he adds, "this is our most magnificent performance ever." The maestro is aghast. "What do you mean we? Did you attend music school? Did you practice every day? Did you reach deep into your soul to evoke that music?" The custodian slithers off the stage.

When the maestro returns to play his second set, he places his hands on the keys and his feet on the pedals and nothing happens. No music comes out. He places his hands on the ...
Start your risk free trial to view the entire installment!
START YOUR RISK-FREE TRIAL
---