SpiritPerfect for Dummies John 16:12-15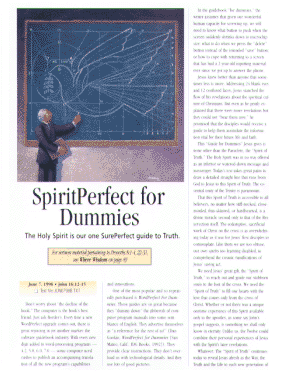 The Holy Spirit is our one SurePerfect guide to Truth.
Don't worry about "the decline of the book." The computer is the book's best friend. Just ask Border's. Every time a new WordPerfect upgrade comes out, there is great rejoicing in yet another market: the software guidebook industry. With every new digit added to word-processing programs -- 4.2, 5.0, 6.0, 7.0 -- some computer nerd rushes to publish an accompanying translation of all the new program's capabilities and innovations.

One of the most popular and so repeatedly purchased is WordPerfect For Dummies. These guides are so great because they "dummy down" the gibberish of computer program manuals into some semblance of English. They advertise themselves as "a reference for the rest of us!" (Dan Gookin, WordPerfect for Dummies [San Mateo, Calif.: IDG Books, 1992]). They provide clear instructions. They don't overload us with technological details. And they use lots of good pictures.

In the guidebook "for dummies," the writer assumes that given our wonderful human capacity for...
Start your risk free trial to view the entire installment!
START YOUR RISK-FREE TRIAL
---