Virtue Reality Part 1 Colossians 1:1-14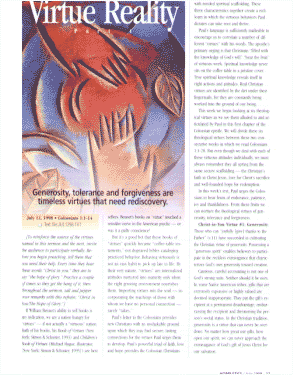 Generosity, tolerance and forgiveness are timeless virtues that need rediscovery.



[To reinforce the source of the virtues named in this sermon and the next, invite the audience to participate verbally. Before you begin preaching, tell them that you need their help. Every time they hear these words "Christ in you," they are to say "the hope of glory." Practice a couple of times so they get the hang of it, then throughout the sermon, salt and pepper your remarks with this refrain: "Christ in You/The Hope of Glory."]

If William Bennet's ability to sell books is any indication, we are a nation hungry for "virtues" -- if not actually a "virtuous" nation. Both of his books, his Book of Virtues (New York: Simon & Schuster, 1993) and Children's Book of Virtues (Michael Hague, illustrator, [New York: Simon & Schuster, 1995]) are best sellers. Bennet's books on "virtue" touched a sensitive nerve in the American psyche -- or was it a guilty conscience?

But it's a good bet that these books of "virtues" quickly became "coffee-table testaments," not dogeared bibles cataloging ...
Start your risk free trial to view the entire installment!
START YOUR RISK-FREE TRIAL
---