Top of the Charts 1 Corinthians 1:10-18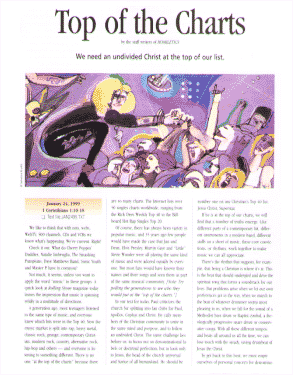 We need an undivided Christ at the top of our list.
We like to think that with nets, webs, WebTV, 500 channels, CDs and VCRs we know what's happening. We're current. Right?

Check it out. What do Cherry Poppin' Daddies, Natalie Imbruglia, The Smashing Pumpkins, Dave Matthews Band, Sonic Youth and Master P have in common?

Not much, it seems, unless you want to apply the word "music" to these groups. A quick look at Rolling Stone magazine today leaves the impression that music is spinning wildly in a multitude of directions.

A generation ago, most teenagers listened to the same type of music, and everyone knew which hits were in the Top 40. Now the music market is split into rap, heavy metal, classic rock, grunge, contemporary Christian, modern rock, country, alternative rock, hip-hop and others — and everyone is listening to something different. There is no one "at the top of the charts" because there are so many charts. The Internet lists over 50 singles charts worldwide, ranging from the Rick Dees Weekly Top 40 to the...
Start your risk free trial to view the entire installment!
START YOUR RISK-FREE TRIAL
---