Angling Without an Angle Mark 1:14-20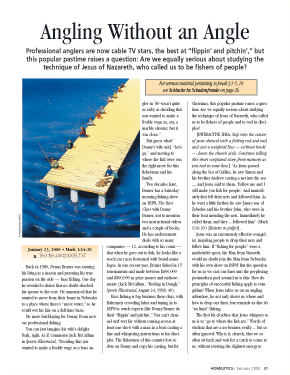 Professional anglers are now cable TV stars, the best at "flippin' and pitchin'," but this popular pastime raises a question: Are we equally serious about studying the technique of Jesus of Nazareth, who called us to be fishers of people?


Back in 1980, Denny Brauer was earning his living as a mason and pursuing his true passion on the side -- bass fishing. One day he revealed a desire that no doubt shocked his spouse to the core. He announced that he wanted to move from their home in Nebraska to a place where there's "more water," so he could wet his line on a full-time basis.

No more bricklaying for Denny. From now on: professional fishing.

You can just imagine his wife's delight. Yeah, right. As if. Comments Jack McCallum in Sports Illustrated, "Deciding that you wanted to make a livable wage as a bass angler in '80 wasn't quite as risky as deciding that you wanted to make a livable wage as, say, a marble shooter, but it was close."

But guess what? Denny's wife said, "Let's go," and moving to where the fish were was the right move for this fisherman and his family.

Two decades later, Brauer has a Saturday-morning fishing show on ESPN, The Bass Class with Denny Brauer, not to mention two instructional videos...
Start your risk free trial to view the entire installment!
START YOUR RISK-FREE TRIAL
---