The Naughty, the Nasty and the Nauseating Mark 2:1-12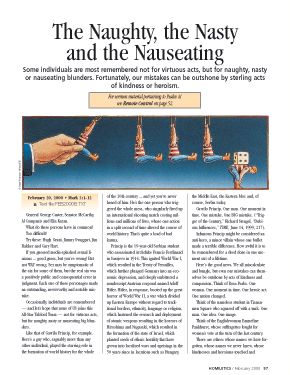 Some individuals are most remembered not for virtuous acts, but for naughty, nasty or nauseating blunders. Fortunately, our mistakes can be outshone by sterling acts of kindness or heroism.


General George Custer, Senator McCarthy, Al Companis and Elia Kazan.

What do these persons have in common?

Too difficult?

Try these: Hugh Grant, Jimmy Swaggart, Jim Bakker and Gary Hart.

If you guessed media-splashed sexual liaisons ... good guess, but you're wrong! But not WAY wrong. Sex may be symptomatic of the sin for some of them, but the real sin was a positively public and consequential error in judgment. Each one of these personages made an outstanding, newsworthy and notable mistake.

Occasionally, individuals are remembered -- and let's hope that none of US joins this All-Star Tabloid Team -- not for virtuous acts, but for naughty, nasty or nauseating big blunders.

Like that of Gavrilo Princip, for example. Here's a guy who, arguably more than any other individual, played the starring role in the formation of world history for the whole of the 20th century ... and yet you've never heard of him. He's the one person who triggered the whole mess, who singularly fired up ...
Start your risk free trial to view the entire installment!
START YOUR RISK-FREE TRIAL
---