The Bethlehem Disconnect Micah 5:2-5a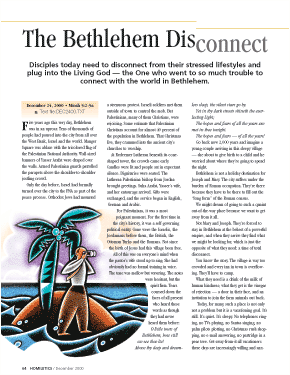 Disciples today need to disconnect from their stressed lifestyles and plug into the Living God -- the One who went to so much trouble to connect with the world in Bethlehem.
Five years ago this very day, Bethlehem was in an uproar. Tens of thousands of people had poured into the city from all over the West Bank, Israel and the world. Manger Square was ablaze with the tricolored flag of the Palestinian National Authority. Wall-sized banners of Yasser Arafat were draped over the walls. Armed Palestinian guards patrolled the parapets above the shoulder-to-shoulder jostling crowd.

Only the day before, Israel had formally turned over the city to the PNA as part of the peace process. Orthodox Jews had mounted a strenuous protest. Israeli soldiers met them outside of town to control the mob. But Palestinians, many of them Christians, were rejoicing. Some estimate that Palestinian Christians account for almost 40 percent of the population in Bethlehem. That Christmas Eve, they crammed into the ancient city's churches to worship.

At Redeemer Lutheran beneath its cone-shaped tower, the crowds came early. Candles were lit and people sat in expectant silence....
Start your risk free trial to view the entire installment!
START YOUR RISK-FREE TRIAL
---