Go to Voice, then F2F Luke 1:26-38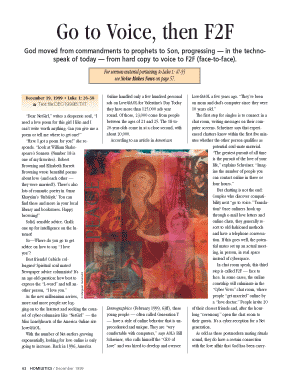 God moved from commandments to prophets to Son, progressing -- in the techno-speak of today -- from hard copy to voice to F2F (face-to-face).

"Dear NetGirl," writes a desperate soul, "I need a love poem for this girl I like and I can't write worth anything. Can you give me a poem or tell me where to get one?"

"Have I got a poem for you!" she responds. "Look at William Shakespeare's Sonnets (Number 18 is one of my favorites). Robert Browning and Elizabeth Barrett Browning wrote beautiful poems about love (and each other -- they were married!). There's also lots of romantic poetry in Omar Khayyam's 'Rubaiyat.' You can find these and more in your local library and bookstores. Happy browsing!"

Solid, sensible advice. Chalk one up for intelligence on the Internet!

So--Where do you go to get advice on how to say, "I love you"?

Best friends? Cubicle colleagues? Spiritual soul mates? Newspaper advice columnists? It's an age-old question: how best to express the "L-word" and tell another person, "I love you."

As the new millennium arrives, more and more people are logging on to the Internet and seeking the counsel of...
Start your risk free trial to view the entire installment!
START YOUR RISK-FREE TRIAL
---