Noise Makes News Luke 1:47-55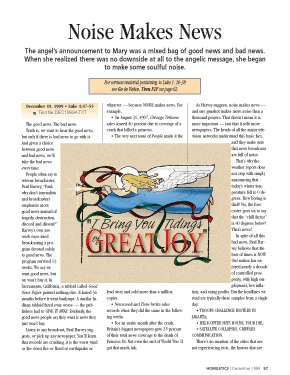 The angel's announcement to Mary was a mixed bag of good news and bad news. When she realized there was no downside at all to the angelic message, she began to make some soulful noise.




The good news. The bad news.

Truth is, we want to hear the good news, but only if there is bad news to go with it. And given a choice between good news and bad news, we'll take the bad news every time.

People often say to veteran broadcaster, Paul Harvey, "Paul, why don't journalists and broadcasters emphasize more good news instead of tragedy, destruction, discord and dissent?" Harvey's own network once tried broadcasting a program devoted solely to good news. The program survived 13 weeks. We say we want good news, but we won't buy it. In Sacramento, California, a tabloid called Good News Paper printed nothing else. It lasted 36 months before it went bankrupt. A similar Indiana tabloid fared even worse -- the publishers had to GIVE IT AWAY. Evidently, the good news people say they want is news they just won't buy.

Listen to any broadcast, Paul Harvey suggests, or pick up any newspaper. You'll learn that records are crashing, it is the worst wind or the worst fire or flood or...
Start your risk free trial to view the entire installment!
START YOUR RISK-FREE TRIAL
---