DisArming Christmas John 1:6-8, 19-28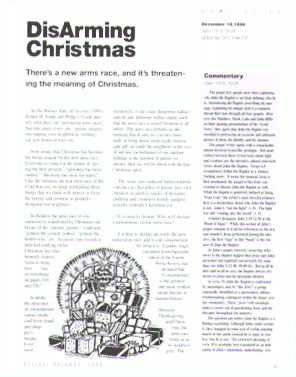 There's a new arms race, and it's threatening the meaning of Christmas.


In The Winner-Take-All Society (1995), Robert H. Frank and Philip J. Cook identify what they call "positional arms races" that take place every day: plastic surgery, one-upping your neighbor in clothing, car, job, house or toys, etc.

How ironic that Christmas has become the boom season for the new arms race. Everyone is vying for the honor of "giving the best present," "spending the most money," "throwing the most fun party." Like the runaway nuclear arms race of the Cold War era, we keep stockpiling those things that we think will protect us from the enemy and position us properly alongside our neighbors.

In children, the arms race of consumerism is manifested by Christmas outbreaks of the "gimme, gimme" syndrome-- "gimme the coolest clothes," "gimme the hottest toys," etc. A classic case records a little kid working on his Christmas list, who honestly expects Santa to bring him . . . "one of everything on pages 219 and 226."

In adults, the arms race of consumerism causes...
Start your risk free trial to view the entire installment!
START YOUR RISK-FREE TRIAL
---