Hazardous Holidays Psalm 25:1-10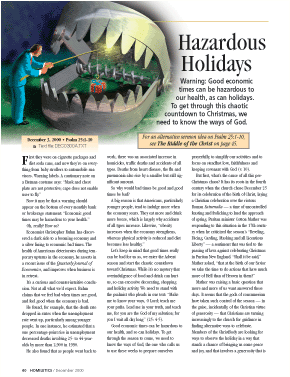 Warning: Good economic times can be hazardous to our health, as can holidays. To get through this chaotic countdown to Christmas, we need to know the ways of God.
First they were on cigarette packages and diet soda cans, and now they're on everything from baby strollers to automobile sun visors. Warning labels. A cautionary note on a Batman costume says: "Mask and chest plate are not protective; cape does not enable user to fly."

Now it may be that a warning should appear on the bottom of every monthly bank or brokerage statement: "Economic good times may be hazardous to your health."

Oh, really? How so?

Economist Christopher Ruhm has discovered a dark side to a booming economy and a silver lining to economic bad times. The health of Americans deteriorates during temporary upturns in the economy, he asserts in a recent issue of the Quarterly Journal of Economics, and improves when business is in retreat.

It's a curious and counter-intuitive conclusion. Not at all what we'd expect. Ruhm claims that we feel bad when times are good, and feel good when the economy is bad.

He found, for example, that the death rate dropped in states when...
Start your risk free trial to view the entire installment!
START YOUR RISK-FREE TRIAL
---