The Lotus Effect Ephesians 4:25-5:2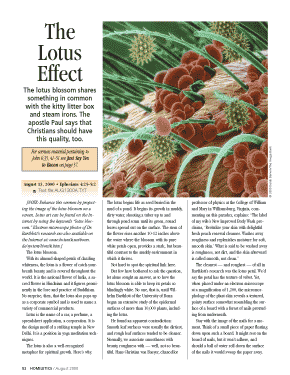 The lotus blossom shares something in common with the kitty litter box and steam irons. The apostle Paul says that Christians should have this quality, too.
[NOTE: Enhance this sermon by projecting the image of the lotus blossom on a screen. Lotus art can be found on the Internet by using the keywords "lotus blossom." Electron microscope photos of Dr. Barthlott's research are also available on the Internet at: www.botanik.unibonn. de/system/bionik.htm.]

The lotus blossom.

With its almond-shaped petals of dazzling whiteness, the lotus is a flower of catch-your-breath beauty, and is revered throughout the world. It is the national flower of India, a sacred flower in Hinduism and it figures prominently in the lore and practice of Buddhism. No surprise, then, that the lotus also pops up as a corporate symbol and is used to name a variety of commercial products.

Lotus is the name of a car, a perfume, a spreadsheet application, a corporation. It is the design motif of a striking temple in New Delhi. It is a position in yoga meditation techniques.

The lotus is also a well-recognized metaphor for spiritual growth. Here's why. The lotus begins...
Start your risk free trial to view the entire installment!
START YOUR RISK-FREE TRIAL
---